Winter 2023 Newsletter
Department Changes Name, Major to Plant Sciences
It's official: Cal Poly's former Horticulture and Crop Science Department is now the Plant Sciences Department, and the agricultural and environmental plant sciences major has also been renamed to match.
"The department carefully considered the proposed name change after input from its advisory council and an industry and market analysis assessing prospective student interests," said Department Head Scott Steinmaus said. "The name 'plant sciences' better reflects the interests of prospective students and predominant employment opportunities for graduates. It also aligns with programs at competitor institutions and the department's academic mission."
Professor David Headrick concurs. "Words matter, names matter," he said. "We went through an extensive assessment of our previous major names in 2011 and found they were not getting high school students interested in our program. Terms like 'environment' and 'plant science' were much better at gaining high schoolers' interest, so we changed the major to agricultural and environmental plant sciences. It's a mouthful, but we were not ready to let go of our ag roots. Still, highschoolers tended to think of ag as driving tractors, and our program is so much more than that. 
So AEPS was born, but problems developed beyond it being a mouthful," Headrick continued. "Our students would reduce it to 'plant science.' Plus we had one name for the department and another for the major. It was confusing." 
The department conducted another survey in 2021 and found that the name "plant sciences" hit all the right notes.
The new name, however, does not change the department's mission. It's still dedicated to preparing plant scientists who are Ready Day One to make informed decisions and recommendations regarding sustainable farming and horticultural practices that maximize plant production and protection while minimizing economic, environmental and social impacts.
The new name clearly conveys the program's academic mission and broadens recruitment of applicants who may or may not have a background in agriculture. And although the major has a new name, students still chose from one of three concentrations in environmental horticultural science, fruit and crop science or plant protection science.
"This name change reflects the department's expertise in providing students with the tools, knowledge and abilities to meet the challenges of tomorrow — from best practices in drought management to the sustainable growing of plants, both indoors and outside," said Andrew Thulin, dean of the College of Agriculture, Food and Environmental Sciences. "Students are given direct learning opportunities in the university's fields, gardens, orchards and labs. Students are encouraged to look for solutions to real-world problems."
---
Putting Down Roots
New Orchards Bring New Life into Learn by Doing
In addition to its new name, the Plant Sciences Department also has several new orchards, including its most recent -- a deciduous orchard with more disease-resistant cultivars than those that were planted earlier, according to Orchard Manager Johnny Rosecrans. Nut crops and stone fruit have been planted, with plans calling for pome (apple and pear) trees and other fruit, such as kiwis, figs, cherries and persimmons to go in soon.
The new orchard, designed by Professor Lauren Garner, is part of a long-term plan. "We are still teaching plant production and we are still practicing Learn by Doing," she said. "From time to time, we have to replant orchards. For example, our older walnut and almond orchards were declining in production, so we replaced them with a new citrus orchard in 2015. We're excited that this year we were able to plant walnuts and almonds in our new deciduous orchard."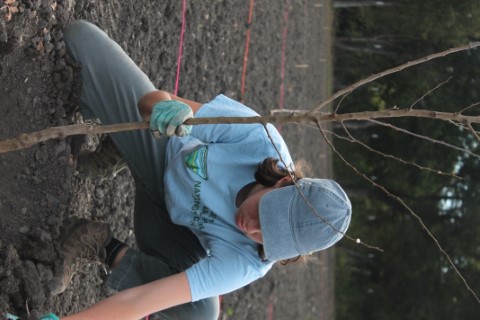 The department also replanted an avocado orchard and added an olive orchard — the result of a senior project — where stone fruit used to be.
In typical Learn by Doing fashion, students have been involved every step of the way, even during the COVID-19 lockdown, when Garner remotely shared her design plans and requested their input.
"They were involved from the ground up -- from suggesting cultivars to planting trees and installing irrigation," Garner said. "We need productive orchards where students can work and take classes.
Planting the orchard was labor intensive. "We removed an older orchard that occupied half the area," Rosecrans said. "The trees were grinded up on-site, then we combed the soil for large roots and debris. We dip-ripped the site to break up any potential hard pan and open up the soil profile. We graded the site to allow for proper drainage. Soil samples were taken to identify pathogens or destructive soil nematodes. 
"A main water line was brought in, and underground irrigation pipes were installed," Rosecrans continued. "A filter station was built to filter the incoming water and allow for fertigation ports, pressure regulation and backflow prevention. Above-ground irrigation was installed to keep young trees watered. Staking, installing trunk sleeves, weeding, watering, fertilizing and pruning were all tasks performed after planting." 
Students helped at every level. "They were in underground trenches gluing pipe," Rosecrans said. "They secured the deer fence to each T-post. They helped with field prep, above-ground irrigation layout, emitter installations, hole digging, planting, weed management and maintenance pruning."
Much of this work was possible because of the department's strong partnerships with industry. External funding supported much of the cost of the new olive and citrus orchards.
"Industry partners and the California Avocado Commission also helped fund the new avocado orchard, the site of a long-term research study," Garner said.
Hands-on learning will continue. "Each crop has different water and nutrient requirements, and each has its own disease and pest pressures," Rosecrans explained. "As we learn more about each crop's idiosyncrasies, either through research or personal experience, it allows us to make smarter decisions on irrigation, nutrition, disease and pest management."
Garner added, "Though the department's name has changed, students still need and use the department's orchards for pomology and enterprises classes, as well as for plant protection, soil science and irrigation classes."
---
It's a Go:
Plans for Plant Sciences Complex Taking Shape
The College of Agriculture, Food and Environmental Sciences and the Plant Sciences Department have plans to build a Plant Sciences Complex to help find solutions to feeding the world in sustainable ways while enhancing the university's interdisciplinary approach to conducting world-class teaching, research and production.
Funding for the project was kick-started with $5 million from one-time funds Cal Poly was awarded in California's 2022-23 budget. Cal Poly will receive $18.75 million of $75 million earmarked for equipment and infrastructure improvements at four California State University agricultural production units, including those at Cal Poly Pomona, Fresno State and Chico State. 
The project will be completed in four phases. The first, the George Wurzel Plant Sciences Building, is supported by a $10 million donation from Jim and Suzanne Boswell and the James G. Boswell Foundation. The gift was made in honor of the Boswell family's longtime friend and colleague George Wurzel (Crop Science, '87) and will unite multiple disciplines to focus and enhance work in plant, earth and soil sciences along with agricultural engineering in one state-of-the-art complex. The building will include classrooms and labs and will be adjacent to greenhouses, processing facilities and a farmers market.
Additional phases will be a high-tech greenhouse complex, a building for fruit and vegetable processing, and a farm store featuring Cal Poly-grown and student-made products.
For information on how to support the Plant Sciences Complex, contact Russ Kabaker, assistant dean of Advancement and External Relations, at 805-756-6601 or rkabaker@calpoly.edu. More information is available at: https://bit.ly/plantsciencescomplex.
Related Content